DizTemp App - How this Work?
DizTemp Mobile App - Smart Temperature Monitoring Mobile App
Smart Temperature Monitoring Mobile App Solution — powered by IoT iBeacon Bluetooth technology which facilitates you to monitor the real-time temperature of the different areas from where ever you are, through your smartphone device, emails or mobile TXT messages. There are several situations in the business industry where we need the desired temperature to be maintained to process some particular work like in Medical Industry, Food Industry, Manufacturing industry, etc.
This Temperature Monitoring Mobile App Solution serves with iBeacon devices which attached with a temperature sensor. You can place each ibeacon device to different areas where you need to watch the temperature or temperature crucial places. iBeacon device regularly broadcast temperature details to beacon signal receiver which further communicates data/actions/ notifications to desired media like Smartphone, Push Notifications, TXT messages on mobile, Email, etc.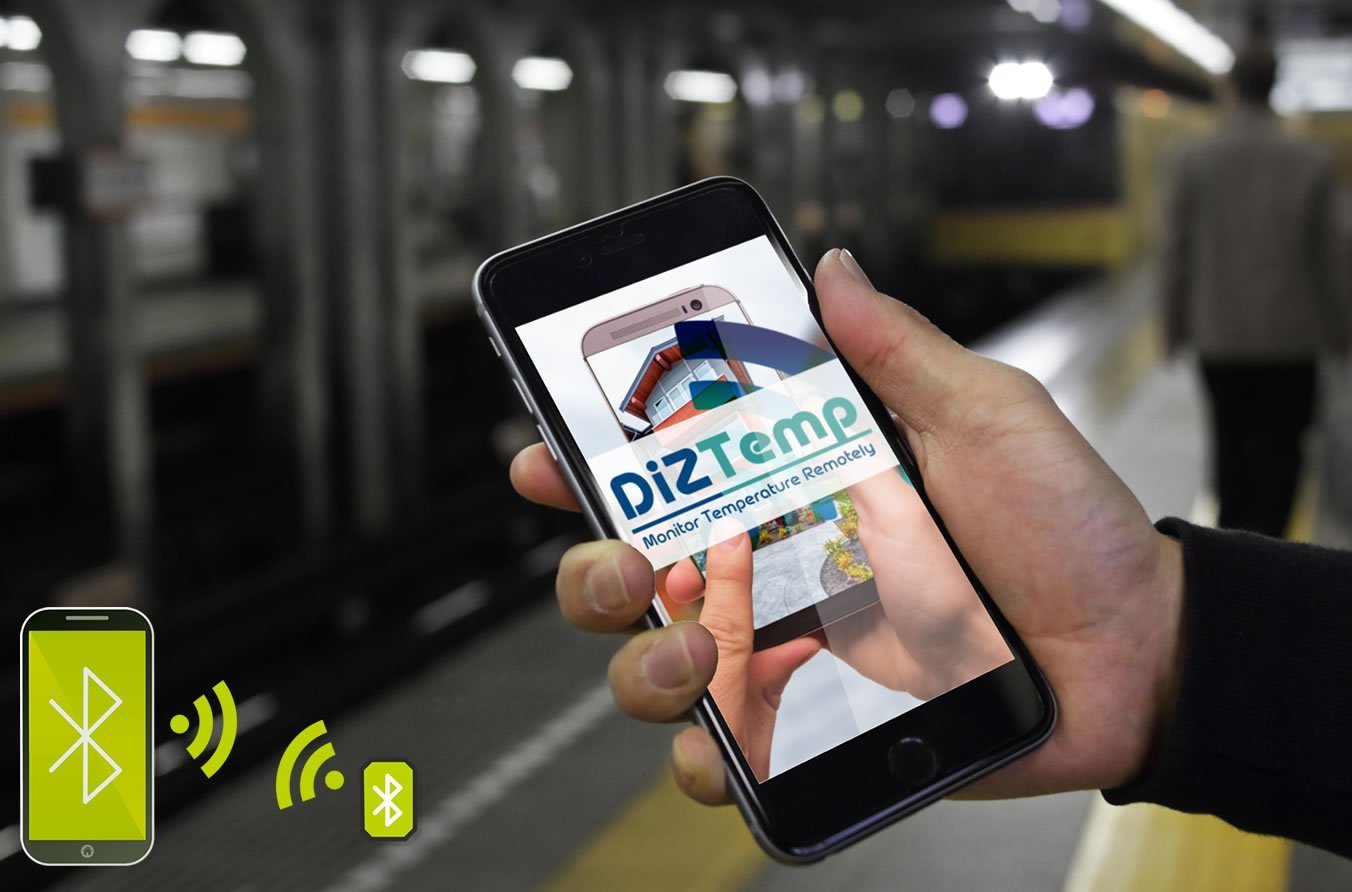 Smart features of "DizTemp" Temperature Monitoring Mobile App
Monitor Multiple Places
You can set different areas in the mobile app with different ibeacon temperature devices. App regularly updates the real-time temperature with a time gap of 5-10-15-20-30 seconds.
Set Desired Temperature Range
You can set up the desired temperature range in the app, If the temperature goes above or below the range it stars sending the alerts to pre-defined contacts.
Types Of Alerts
In case of different temperature app starts sending the alerts in the form of Push Notifications, TXT on mobile, Email. You can set these settings in the mobile app.
Monitor Realtime Temperature
The app monitors the temperature in realtime in every 5 or 10 or 15 or 30 seconds. This ease your concern of checking the temperature of the crucial business places again n again. It sends alerts if the temperature goes above or below the set level.
Equipped with iBeacon + Temperature Sensor
ibeacon low energy Bluetooth device powered with a battery which has a very long life from 6 months to a year.
Cost Effective Smart Solution
This is a cost-effective smart temperature monitoring solution. All ibeacon devices equipped with a replaceable battery.
Frequently Asked Questions
Smart DizTemp Mobile App
Write to us to get complete information about this innovative mobile app
Consult with us, We can also develop a custom solution using innovative ibeacon or RFID technology based on your requirement & business operations.
Temperature Monitoring Mobile App Solution, ibeacon Mobile App Development, iBeacon with Temperature Sensor Mobile App Development