REASONABLE PRICED MOBILE APP PACKAGES FOR FOOD BUSINESS
Get a digital solution for your food business to scale it to the next level of hights.
You will get all digital solutions under one roof for growing your food business. Select from the below packages which suit you the best. Fablian Solutions ranges from simple website, food ordering mobile apps, food delivery mobile apps, restaurant point of sale system, table booking tablet apps, etc.
BRAND WEBSITE
$499
ONE TIME
Good for branding Your Restaurant / Food Outlet
Up to 10 pages
Mobile responsive
Easy to manage CMS
Food menu catalog
Search engine friendly
Custom design
Free 3 months support
No Food ordering
GET STARTED
FOOD MENU APPS
$499
ONE TIME
Digital Food Menu on Mobile Apps
Up to 8 screens
Menu Listing
Call to the phone number
Easy to manage CMS
Android & iOS apps
No food ordering module
Custom design
Free 3 months support
GET STARTED
FOOD ORDERING MOBILE APPS
$799
ONE TIME
Best for increasing your revenue & sales
Up to 10-15 screens
Menu Listing
Food order facility
iOS & Android Platform
Payment gateway
Order Management
Delivery Module
Good for customer service
Backend Console
Free 3 months support
GET STARTED
*Above are the just highlights, contact us today to share your requirements, we have facility to arrange any type of arrangement based on your specifications of task.
COST-EFFECTIVE FOOD DELIVERY MOBILE APP DEVELOPMENT PACKAGES
Grab your mobile audience who is currently missing your Food Outlet & tasty meal items.
If you are searching for a Mobile app development agency India for your Food Business to bring digital strength to your existing business, we are happy to provide you cost-effective Food ordering delivery mobile app development services.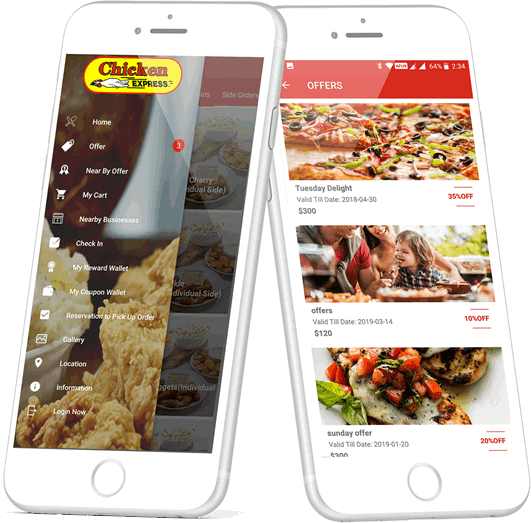 COST-EFFECTIVE MOBILE APPS DEVELOPMENT
Our Work for Food Industry
Have great exposure in developing mobile app solution from a long time now, We have curated above basic packages for those businesses, who would like to taste the benefits of this mobility age, to begin with this line of strategy.
Mobility is essential in business,
Nowadays 70% of users are on mobile!
See the short video in the right to see why mobile apps are necessary for your business for the growth, revenues & profitability.
Food ordering web mobile apps packages for your food business @India.