6+ YEARS OF EXPERIENCE WITH EDDYSTONE BEACON TECHNOLOGY
New Generation Bluetooth works wonder with mobile apps
The primary difference between Google's Eddystone & Apple's proprietary iBeacons is that ibeacon needs a specific app installed in the smartphone to detect the ibeacon and further act on it whereas Eddystone has no such requirement only need to have Bluetooth ON to receive the URL from the nearby Eddystone beacon.
Eddystone beacons have edge over Apple ibeacons, They don't need any app to act upon an action. They just broadcast a URL to the smartphone which is very helpful in many use cases. Even not need an app to perform any action just a mobile version of any web-based application works wonder to fulfill the objective.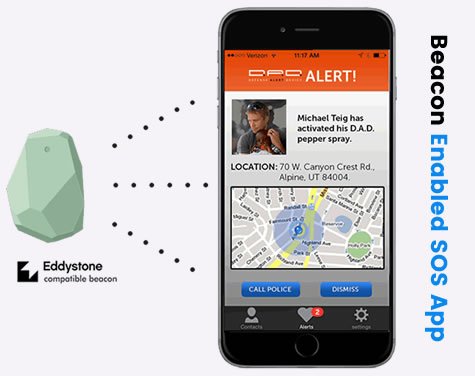 MUSEUMS & EXHIBITIONS
Viewers can get information about the articles on their smartphone through automatic push notification.
CHECK-INS / CHECKOUTS
Configure any action on Check-in & Check-out of the customer which can be sync to a web-based application.
WIRELESS INFORMATION
Your customer can get your menu, product catalog offers on their smartphone.
AUTHENTICATION TOOL
Can be used as a wireless authentication tool to access protected resources or login into applications.
WIRELESS ATTENDANCE
Eddystone beacons can be used to take wireless attendance in the web HRM system.
DIGITAL FOOD MENU
The customer gets a Food Menu on his smartphone to place the order without having your mobile app installation.
SMARTNESS IS A KEY IN TODAY'S DIGITAL WORLD
What are Eddystone beacons? How do they work?
Eddystone Beacons are small, battery-powered, always-on / few devices having on or off switch devices that use BLE technology to broadcast signals to devices, such as smartphones and tablets, within a range of about up to 300 feet or greater than that depends on the different devices available in the market.
Eddystone beacons founded by the Google as an open source BLE technology which uses a physical web browser to work. It is very similar to the ibeacon beacons launched by Apple. Eddystone beacons having majorly features like Transmitting the information about its location, what is nearby and linking a mobile users to the online link to act further based on the precoded functionality.
``Brian Cooley discusses retail beacons and how retailers and customers plan to use the Bluetooth devices in stores.``Brian Cooley
Some of our Beacon Enabled Work
Here we go with some of our mobile apps development with beacons chips, they conclude marketing apps, reward wallet apps, check-in rewards mobile apps, Authentication tool & much more.
Not Just Mobile App Development, We work with innovative Eddystone technology