The beacons devices uses an innovative ioT technology which is powered by low energy Bluetooth technology, which have been operated on coin like cells and live on power for 6 months to 1 year on an average. There are two types of beacons available in the technology world, One is ibeacon created and founded by Apple and Eddystone created and founded by Google in competition of Apple.
Usage of both the technology is different which has been explained in our previous post here key distinctions or differences between Eddystone and iBeacon BLE devices
What is iBeacon Temperature Device ?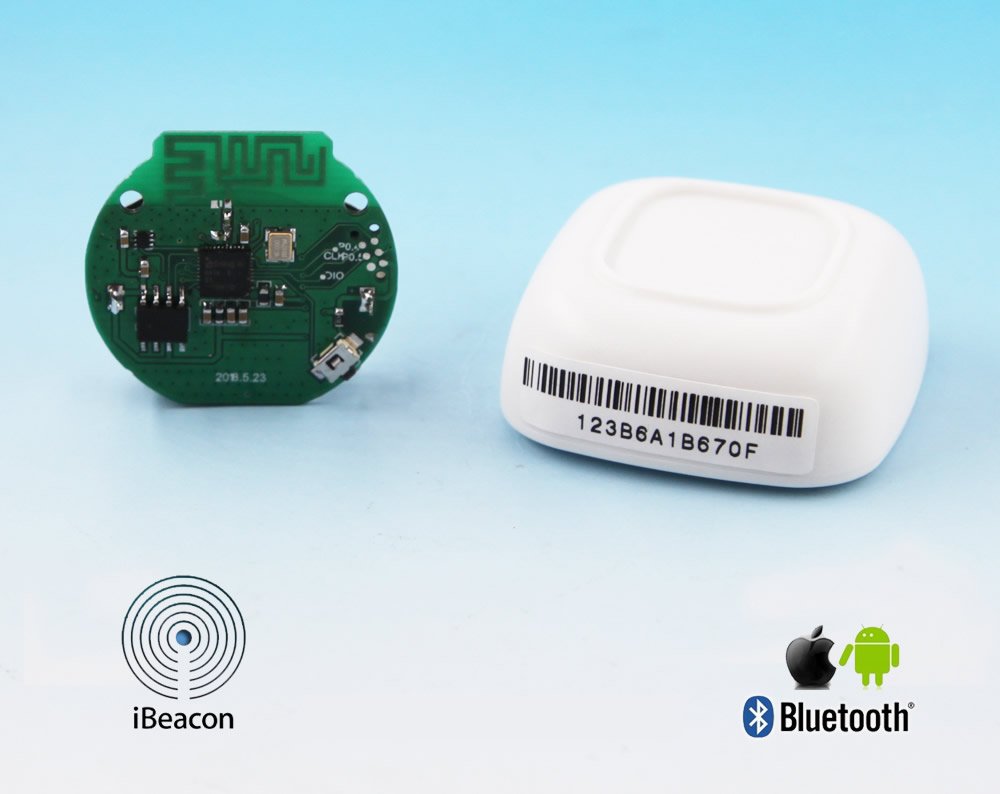 Above is a snapshot of ibeacon device equipped with temperature sensor, it's a small wireless & portable device having size of 1 big coin only. It can be waterproof or without water proof as we required as per our requirements. it is powered by coin like battery which last longer for 6 months to 1 year. So cost effective solution to use for temperature monitoring of any business / home condition.
How iBeacon equipped with Temperature sensor works in the technical workflow?
iBeacon is a broadcasting chip which broadcast beacon signals up-to range of 60 – 100 mt based on the device you choose. It takes temperature data from the temperature sensor and broad cast it to nearest available mobile device or a ibeacon signal receiver hub which further transmit data to the web server and it sync data to the mobile app through web services. Now based on this reading we can code any action as required. For Example, We can send notifications if temperature goes above or below to set temperature reading to other mobile device via TXT message or email notification on emails.
Ideas to use ibeacon attached with a temperature sensor in our life, home & business operations
Cold Storage – Beacon device can be placed in cold storage used in various businesses to monitor their temperature to avoid wastage and take precautionary measure in advance.
Medicine Storage – Beacon can be placed in cold refrigerators/spaces where medicine kept which needs extra cold environment.
Monitor Machine Room Environment – In Manufacturing industry there are many machines which need a suitable temperature for full productive results. iBeacon temperature mobile app can monitor the temperature and notify in case of any drop or scale in the temperature of the place, room or where the machine operates.
Telecom Tower – In today's generation mobile towers are equipped with servers which run to provide the connectivity to the mobile network. These server needs cold room temperature to run and avoid overheat or burn out. Tower server rooms equipped with the required AC's which runs 24 hours to maintain the optimum room temperature for the servers. ibeacon temperature monitoring device is useful in this case to provide real-time updates without visiting the place on the mobile app or web or email.
Home Automation – Smart temperature ibeacon device can be used to automate the smart gadgets of the home like Ac's, TVs etc.
And much more….
If you have some idea and want to discuss the feasibility of the same with ibeacons, Eddystone with Temperature sensor you can reach Expert company working with iBeacon Temperature Sensor.