The food industry is already popular with digital solutions such as a web-based Food Ordering system, Food ordering delivery via Mobile apps on iPhone & Android Platform, POS setup on desk systems to take orders & manage billings. But to manage the above application every restaurant business needs to put manpower to manage it which results in an increase in overheads.
To consider this now very few of the Restaurant & Food business owners come up with the idea of Automatic Food Ordering Kiosk System, Where the customer comes to the restaurant and browse the food menu on the stand-alone kiosk and build order which they like to have and make payments via card or cash or pay at the cash counter.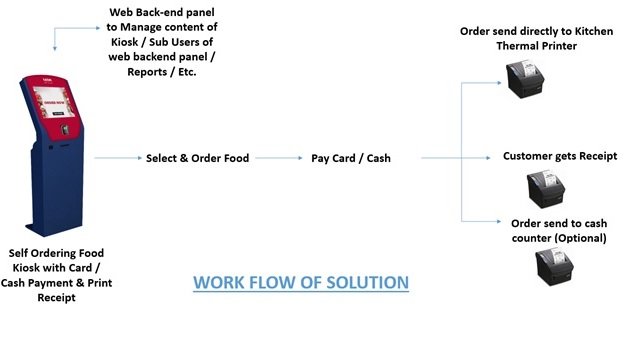 How Automatic Food Ordering Kiosk System works?
Customer browse food menu & details on the touchscreen enable Kiosk display.
The customer browses the latest offers & combo details.
Build food order and check out for payment option
Make payment via card swipe on inbuilt card swipe machine in the Kiosk
Or, Can make the payment with auto cash notes receiver & dispenser system.
Or, choose the option to pay at cash counter ( depends on the kiosk configuration & business needs )
After confirmation of the payment Kiosk automatically prints the thermal receipt and sends the same receipt to the kitchen printer which is connected via Bluetooth or wifi of the premises.
The customer either waits for the order if they want to take for take away or sits on the dining table waiting for the food to be served.
How is Automatic Food Ordering Kiosk System benefits to the Food Business? 
Majorly it makes the ordering process more efficient and fast.
Avoid fewer chances of any error in listening or mistakes in order to take from the customers.
Customers love this self-system because they can feel the dish themselves and know in advance the amount of their order.
Faster the process results in more orders, More orders mean more revenues.
Easy to manage the KIOSK content on daily basis no need to wait for the new printing of the physical menu each time you want to make some change.
What solutions you will get in the easy to manage the development of Automatic Food Ordering Kiosk System?
First of all, you need to connect with the Kiosk hardware manufacturer who can design & manufacture your custom kiosk hardware or you can use already available Kiosk system with different specifications.
Development starts from Master Admin Panel which needs to be built on Web which has all features to manage the content, setting, images of the Kiosk hardware. This panel has all the reporting features which further helps in analyzing the order patterns of the customer.
UI development which should be compliant with the screen specifications of the Kiosk. UI will be easy to use & customer touch-friendly so that customers can place their food orders in a convenient way.
Some third-party features API needed to make that work such as

SMS Processors – To send order receipt on the customer mobile number, Staff of restaurant.
Card Swipe Payment Processor – API to integrate the Card swipe machine which was integrated by the hardware manufacturer to work with the Kiosk application.
Cash receiver & dispenser system – This is optional, If you want your customer can pay through cash notes then API of this system needs to be integrated in the Kiosk application
Fablian, A Solution development & integration offshore company has vast experience in working on similar projects, If you gain interest in these types of systems you can reach them at Automatic Food Ordering Kiosk System Developers. or Self Ordering Kiosk Software Company