There is numerous time we hear that why should a small Restaurant business have a mobile app for their business. This becomes an additional headache to maintain the digital stuff whereas you are already having a website to showcase your restaurant menu. A website is sufficient for making a restaurant brand. Most of the time you see the posts related to this topic by the Food apps development companies and think they just right these benefits just to sell their products ( We are also doing the same, you can think so ) but it is not a true fact at all. Today you can see below benefits and self-visualize that if you have these strategies in your plan it definitely gives fruit full impact on your business.
The evidence that Starbucks (a company famous for influencing the bents in the food and beverage industry) conveyed 16% of their sales over their mobile app solely.Which indicates that even though someone has to be in a physical Starbucks location to buy one of their drinks, $1.6 billion of a $10 billion revenue was all done via mobile presence.
Don't know if this is a good reason, but $1.6 billion is something to seriously think for the transaction movements on the mobility. This is a fact that people are using their smartphones for most of their daily life routines work like reading news, shopping, baking, email checking, book reading, socializing, connecting with their friends, etc. Their numbers are increasing day by day. Facts show that penetration of mobile phones is increasing year by year in almost all parts of the world.
So it's obvious that the idea of a mobile app for restaurants is an expected trend… but the real question is, how it is beneficial for your business.
Today we came out with most obvious points to explain you, to judge a huge potential revenue and your customer retainment through a mobile app for your business. So that you can see yourself and see what you are loosing by not adopting this new era of mobility in your business.
1. Fast & User-friendliness: A mobile app is a fast & most user-friendly version of your food service. Your customer can easily access through your Food Menu which is always updated and have correct pricing, availability of items, latest happenings of your restaurant. There is no dependency on having your store open or during closing hours, your customer can browse it anytime as per his convenience and from anywhere. Your customer can have the convenience of a book a reservation table in advance to avoid standing in a queue in the peak time of your business. Even though table booking is not a much essential feature of the mobile app, it can also be handled through the phone calls but having a food order along with a table reservation makes a difference in improving your food service when your customer actually reach your restaurant. Your staff can plan the preparation of food orders in advance when they already have a list of Food order in their hand with the time of their serving.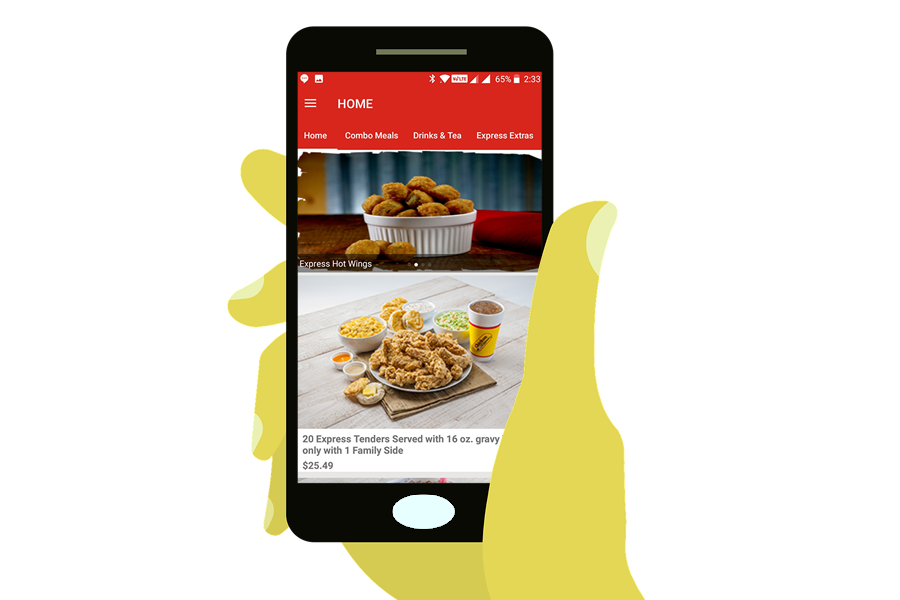 Most of the Revenue incentive feature is the Food ordering, delivery or makes a booking of a time to pick the order. This facility mostly ignored by the Dine-in restaurant owners whereas this is an opportunity to scale your orders beyond the capacity of having each and every customer to your limited arrangement of tables. You can serve more orders beyond the numbers of tables you already have in your dine-in restaurant. Your regular customer also likes to pick their favorite food sometime when they have less time to sit in your restaurant but like to taste food dish at their home while traveling from the office to their home. Mobile apps really give more convenience to your customer, your staff & reduce time wastage in waiting, without planning to serve for walk-in orders. They are fast & easy to access like a playing a game with the few clicks.
2. Catch new generation of Millennials: Millenials are the generation which generally discovers the restaurants through their mobile phones. This is a generation which comes between 18 to 35 years age group. they spend most of their time on their mobiles and use it extensively for their routine daily work. They like to see the restaurant ambiance on mobile apps, food menu of different joints, running offers, how far is the restaurant from their current location, etc like of stuff. In today's time, the chunk of Millennials customer is a huge pie which can't be ignorable.
To grasp this segment of customer business needs to be in the app stores with their mobile apps & have a proper marketing strategy to promote their app in from of the customers.By hooking up with this modern trend, restaurant proprietors make their services better for existing customers as well as address to the young people who are endeavoring some good restaurant through the new era of mobile services. Lastly, for retaining the new and modern audience, restaurants need to have the latest channel of communication i.e. Website, Mobile apps on both the app stores, Good optimization of their operations, timely service, customer high satisfaction, regular customer engagement.
3. High ROI on your marketing campaigns: At the time of running with special offers, latest happenings, deal offering, Mobile app is a media through which you send this information in just a seconds of time through Push notification services, By broadcasting nearby offers to all nearby passing customer to your restaurant or even announce instant offers to your already seated customers in the restaurant. This helps you to gain high ROI on your offers, you can full fill your aim of gaining target revenue in launching your offers. Let say you know that your lean period of the restaurant is afternoon, you get very less visit during the daytime, You can broadcast an offer to provide some combos or freebies. Sends offers via push notification to your customer app.
This will help in reminding your regular customer about your restaurant and argue them to take a visit to your restaurant to take benefit of the running offer and this result increase of your regular sales.  Everyone wants to save bugs by having the same quality of service with some reduced rates. Offers are driving force to every business brand.
4. Easy Access to your latest Menu Card: You already know how much hard to make a small change in your printed menu on regular basis. Making a small change with cutting & over right on it looks very awkward and you potentially not change your menu to avoid reinvestment in printing the menu again. Eventually, this problem solved to some extent by having a website, but I always see that people still stick softcopy in image format on websites to avoid writing of detailed menu of the Restaurant so that they can make changes from time to time.
But this is not a case with the mobile app. You can make n number of changes in the mobile app food menu, Design new combo offers on daily basis, Showcase daily new dishes as you want. It is very easy to make changes in the mobile app. Whereas it is easy for your customer too, to access your food menu anytime from anywhere. User-friendly Food Menu Categories, Food items with images & ingredients, etc. Latest offers of Food Menu all at one place make easy to access and order via mobile app for your customer which doesn't distract them in taking a decision to come at your restaurant. Millenniums are very moody and somewhat lazy too if they unable to find something which they are looking for they don't take much time to switch to other restaurants.
5. Direct Click to Call button feature: Sometimes it feels very annoying in searching the mobile number on google and write it down somewhere to call the restaurant and do this activity again when next time again plans to make a reservation at the same restaurant. A mobile app has a feature of direct call button so you can call your restaurant with questions without going through the process of finding the phone number each time.
6. Loyalty & Referal Program Utilisation: Earning the reward points from the mobile app is far more liked by the customers. Day's are gone when you provide the printed coupons to each customer on their second visit. Through the mobile, this would be possible with more interactive way. Some mobile apps equipped with ibeacon wireless technology through which your customer can make a wireless check0in as soon as he enters into your restaurant and earn points on their visits and can redeem them at the final billing of their order.
On mobile, you can send them a more personalized offer based on their previous orders and paying preferences. Even this ibeacon device which needs to be installed at your restaurant entrance or parking area can welcome your customer by his name and guide them to their already booked table. This innovative way of rewarding them will give you a distinct advantage over your competitors. Giving your regular customer something so that they keep visiting your restaurant & helps you in retaining your customer and increase your sales.
According to a research, 65% of restaurant customers would be willing to download your restaurant's app if you promised them exclusive offers and deals from time to time, and a mountainous 80% of those people would proactively return to your restaurant to realize the benefits… even if it meant they'd have to keep buying a few times before they got anything. Ahead of that, you can incentivize your buyers to refer their friends and family to your restaurant by rewarding them with points towards their bill based on how many people they refer to your location and come in to make a purchase. Increase in your customer numbers leads to the increase in revenues.
Conclusion, 
Every restaurant owner should have a try to this opportunity of the mobile platform and hire some Food Ordering custom app development company to develop a Restaurant mobile app. or if just want to test this game then can go with Ready Table Reservation Mobile App Solution for Restaurant or Food ordering mobile app solution for Restaurant.
As per reports, You should know that 95% of restaurants didn't have an app a year ago. This means if you decide to get an app for your restaurant now then you can have an added advantage to grasp this opportunity much faster in your local area then others.
Check out our Table Reservation, Food Ordering Mobile app integrated with iBeacon Bluetooth technology for distributing offers to your nearby customers in a different and unique style.