This post is crafted for the Grocery business owners or if you are planning to open a grocery business. As you already know that mobility keeps on increasing day by day that's why A mobile app is a proven platform for your Grocery business growth. If you are still based on traditional mode of brick & mortar based grocery business you are leaving the great opportunity of more money on the open table. Mobile app for your grocery business not only helps you to retain your regular customers but a separate revenue stream of monthly sales. Before going forward for the cost of Grocery mobile app development just read a few highlights of why you should have Grocery delivery mobile app.
Online grocery sales growth from 2012 onward.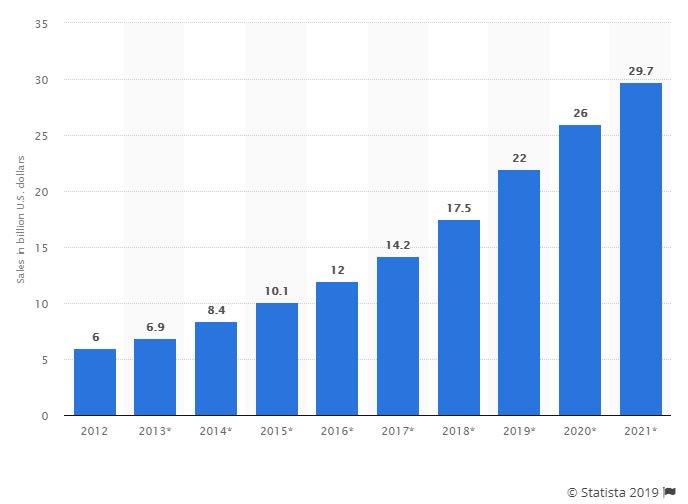 You can see from the above stats for growth in online grocery sales since 2012 & it keeps increasing because nowadays people prefer to order daily need of items from the convenience of their home or office. And it is obvious to do so because they are so much engaged in their own routine work for career or business life and getting things on fingertip without visiting the place to buy helps them to save the time in those activities.
Why Grocery delivery mobile app?
Now you are wondering what is a basic purpose or need of Grocery delivery mobile app. The convenience of browsing listings of daily items & placing the order for delivery from a smartphone app is the main purpose solved by a Grocery delivery mobile app that's why the businesses which are into it keeps growing on exponential rate. Your customer doesn't need to visit your shop for the purchase. They can place an order & pay via the app or at delivery. A mobile app which has the feature of taking orders of grocery items for delivery at your customer doorstep is called a Grocery delivery mobile app.
Some Benefits of having Grocery delivery mobile app for Grocery business
Engage your customers with your Grocery business.
Updated rates of the products always in the hands of your customers.
Send latest offers or information to your customers via push notification
Gather customer data like name, address, phone number, email for marketing campaign via email or text messages.
Make your brand among the customers.
Retain your direct customers for regular sales.
Gives the option of subscription to scheduled orders of daily need items on a weekly or monthly basis.
Mobile app works for 24×7 in your customer's hands.
Gives the option of pay via app or at delivery to delivery boy.
Till now you understand, how potential a Grocery delivery mobile app have for your business growth.
Cost of Grocery mobile app development?
Different models of Grocery business
Single or Multi Location Grocery shop in Single business name.
Market Place Grocery delivery mobile App where different Grocery business sells their products on single mobile app platform owned by you.
In General, due to the nature of common products in the Grocery business Single business name business model are more popular as respective to Market Place B2B model.
Factors which effects the cost of Grocery delivery mobile app development
Ready-made solution Grocery delivery mobile app or Custom made solution for your grocery business.
Platforms – You want the solution on iPhone or Android or on both.
Payment Gateway – Which payment processor you choose to take in-app payment or leave it for pay at delivery only.
Integrated Features – Push notification, customer login, order tracking, real-time order tracking, etc.
Delivery guy mobile – You opt for having a separate mobile app for your delivery guy.
How you manage the order status through web panel or like to have a tablet app to manage order deliveries.
On a high level, Ready Mobile App Solution for Grocery business cost you anywhere between $399 – $699 one time and Custom mobile app development will range from $5000 – $10,000 depends on the features you ask to develop from Mobile app development company.